Teacher Recognition Programs
Arkansas has so many wonderful teachers and Economics Arkansas enjoys honoring those who've demonstrated excellence in teaching economics. We have two programs that recognize outstanding economics educators.
Bessie B. Moore Awards Program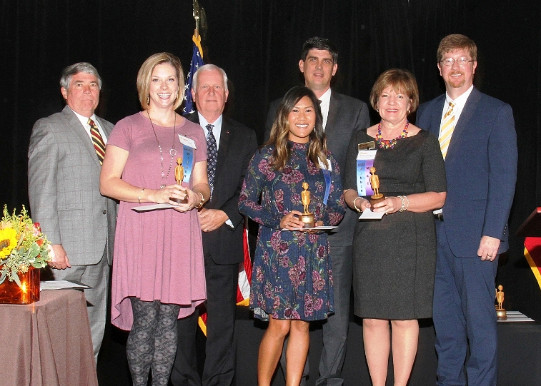 The Bessie B. Moore Awards Program recognizes Arkansas teachers for going "above and beyond" what is required by developing outstanding economic and personal finance projects they integrate into the classroom during the school year. The recipients receive statewide recognition from board members and donors during an annual luncheon hosted each fall, a monetary award, and--premiering in 2016--"The Bessie."
We are deeply grateful to our generous sponsors who make this program available.
Please click 2015-16 sponsors.
The winners of the 2015-16 awards were honored during a luncheon on Nov. 17, 2016.
View photos here.
A write-up of the event may be found in the Dec. 4, 2016, issue of the Arkansas Democrat Gazette. Many thanks to Cary Jenkins for attending the gala! We are also grateful to Alex Golden of the Southwest Times Record for reporting on the six Fort Smith area winners and to Arkansas Bankers Association for its coverage of the luncheon in the December issue of Arkansas Banker.
Entry Form
The 2016-2017 Bessie B. Moore Awards Program entry form may be found here. Preview, Download
Master Economics Teacher Program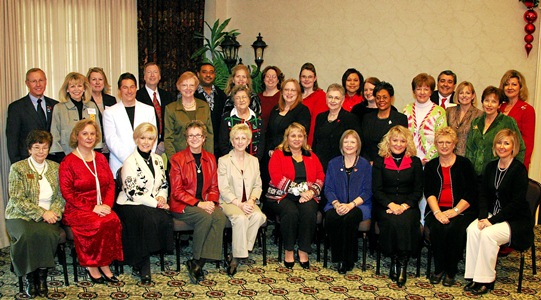 Economics Arkansas certifies outstanding economics educators as Master Economics Teachers or METs. Participants in this choice initiative serve as "resource extenders" by providing training in economics and personal finance to other teachers across the state. Candidates undergo a rigorous nomination, selection and testing process before certification. Economics Arkansas is one of the few organizations in the national network of economic education councils fortunate to have such a unique group of teachers dedicated to helping promote economic literacy.
During the 2014-15 school year, a record-setting 10 new MET candidates qualified for MET designation.
For a list of active METs, click here.
---
We are deeply grateful to Ray Hobbs of Rogers, AR, for his very generous support of the MET program. Thank you.
---