Arkansas Reads One Book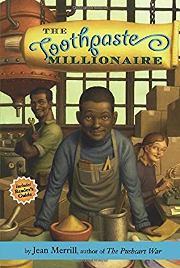 Economics Arkansas is a lead partner of "Arkansas Reads One Book," a family financial literacy project that involves K-5 students, their families and their communities.
Economics Arkansas is creating lesson plans, student activities and family reading guides to help students and their parents develop sound money management skills.
Now in its third year, the project features as its 2019 selection The Toothpaste Millionaire by Jean Merrill. Students, teachers and families may find all accompanying resources here.
---
Season 1 and 2 Selections
2018: Cleo Edison Oliver: Playground Millionaire, by Sundee T. Frazier. Details and resources. 
2017: The Lemonade War, by Jacqueline Davies. Details and resources. 
---
Special Edition: In the Fall 2018 semester, Little Rock Public Schools are reading Zoey and Sassafras: Dragons and Marshmallows and Frank Einstein and the Electrofinger to study the connection between science and economics. Download lesson plans, resources and activities here.