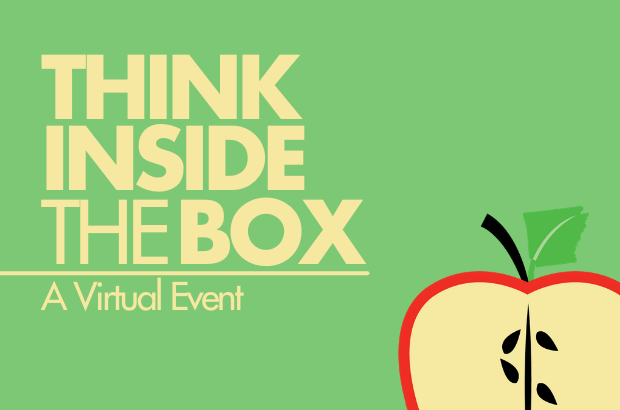 Think Inside the Box FAQs
---
How long does the event last?
The event will open with a virtual lobby at 5:45 p.m., and will officially start at 6:00 p.m. The event is scheduled to end by 7:00 p.m.
What do you get as a sponsor or ticket holder?
Each ticket, whether purchased individually or included in a sponsorship, comes with 1 box of items to build with and 1 link to access the Zoom call for the event. Households can participate together using 1 box and 1 link, or as individuals on separate devices with separate boxes and links.
Who participates? 
You can participate on your own or with your spouse, your kids, or coworkers! Whoever you feel safe sharing this experience with.
What comes in the box?
The box you receive will include a smaller box with an assortment of supplies you'll use to build your product (these should not be opened until the event), as well as some local goodies, "swag," etc. If you feel like you must take a peek prior to the event, we won't tell, just don't start building with your products until told to do so during the virtual event. 
Do I have to make a pitch?
No! You are welcome to enjoy listening to others, but we think the pitching part is really fun!
I'm still nervous about the pitch part. Can you tell me more? 
This activity has been done with hundreds of high school students across the state. We are always impressed by the innovative ideas that come from very simple materials and just a few minutes to work with. The ideas are often quirky, and may not always be practical, but they show innovation and always fun to hear. Some ideas we have seen in the past include noiseless windchime, a cookie-dunking contraption, and a special savings bank. Whatever you come up with, it's all in the name of fun. 
What does the winner get?
Bragging rights and a trophy!
Can you donate your ticket?
Absolutely! If you would like to donate your ticket, we will find a teacher in Northwest Arkansas who would love the opportunity to participate. 
Explain the Fund-A-Need option.
If you can't make the event, but would still like to support our initiatives, consider making a gift at one of the suggested levels on the sponsorship form and receive increased sponsorship benefits. For example, give $750 and receive benefits listed for the Silver Sponsorship ($1,500), give $1,250 and be recognized as a Gold Sponsor ($2,500), etc.
You will not receive any build boxes or Zoom links to access the event but will still be recognized as a sponsor. 
Still have questions? 
Call 501-682-4230 or email kathleen@economicsarkansas.org.