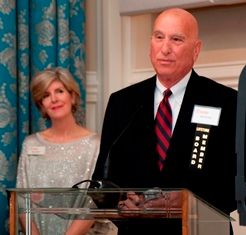 Economics showed its festive, even glamorous side on Nov. 8, 2012, when we honored 9 Arkansas leaders for lifetime service on the EA board. A cocktail reception at the Arkansas Governor's Mansion to celebrate our 50th Anniversary brought together many members of the EA "family": current and past supporters, board members, educators, volunteers, administrators and staff.
We would like to extend a special thanks to Ray Hobbs, our board vice-chair, and his wife, State Representative Debra Hobbs, for personally sponsoring our event.
Former U.S. Senator David Pryor served as keynote speaker. He recalled his long-time acquaintance and collaboration with Bessie B. Moore, who co-founded Economics Arkansas in 1962, then known as the Arkansas Council on Economic Education. Moore was legendary for her passion for public libraries and schools and managed to convince Pryor, as a first-time Congressman in the mid-1960s, to break with tradition and request permission to make a speech to the House of Representatives. She wanted him to support an amendment she had prepared to add to the appropriations bill of $10 million for public libraries. Pryor described how implored the then-Speaker of the House to let him have the floor because if he didn't, "Bessie was going to have my hide." He added that he was allowed to make the speech and the amendment passed.
Pryor then recognized the EA Lifetime Board Members with these words: "What a privilege it was to have known Bessie B. Moore, and what a privilege it is to be here with you who have made that particular choice to help our state and our country in furthering the education of our young people all across Arkansas."
The following individuals were acknowledged for lifetime service on the EA board of directors:
Jim Wooten, 33 years, president, Winslow Holding, LLC, Beebe
Jim Walton, 29 years, chairman and CEO, ARVEST Bank Group, Bentonville
William B. Fisher, 28 years, general manager and CEO, Paragould Light, Water & Cable, Paragould
Dr. Jim Rollins, 28 years, superintendent, Springdale School District, Springdale
Rogers Ford, 26 years, superintendent (retired), South Mississippi County School District, Joiner
Dr. Benny Gooden, 25 years, superintendent, Fort Smith School District, Fort Smith
Bob Watson, 25 years, superintendent, El Dorado School District, El Dorado
Mike Wilson (posthumous), 29 years, former owner of R.R. Lee Wilson Company, Wilson
Leonard Dunn (posthumous), 27 years, former banker in Pine Bluff, Hot Springs and Little Rock.
Almost 200 guests enjoyed a delectable buffet of heavy appetizers and libations. Entertainment by "Lark in the Morning" rounded out the evening.
Thank you for attending! We are ready to embrace the next 50 years of promoting economic and personal finance literacy.