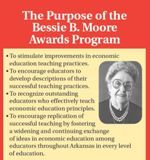 Congratulations to the winners of the 2016 Bessie B. Moore awards!
The following winners have excelled with their innovative and effective approach to economic and personal finance education in the Prek-12 classroom. Well done!
Newcomer Category:
Amy Gordon, Fort Smith School District, 3-2-1 Economics
Jaime Cavitt, Springdale School District, A Scholastic Journey into Economics
Amy Hardy, Greenwood School District, The Dream Team Entrepreneur
Jason Heath Hawkins, Manila School District, The Economics of Entrepreneurship
Veteran Category
Nakesha Cunnningham, Pulaski County Special School District, A Hat is Here. . . A Hat is There. . . An Economic Hat is Everywhere
Shelina Warren, Pine Bluff School District, My Local Economic Trivia League
Tracy Floyd, Sheila Humphrey, Kristina Thrift, Fort Smith School District, Patriot Pride Since '75--Economics in Our Lives
Valerie Harp, Hacket School District, Super Economists
Amy Mileham, Rogers School District, Take Me Out to the Ballgame
Rebekah Bilderback, Greenbrier School District, Which Trade Route is for Me: Sahara, Silk or Spices?
They will be recognized during a gala luncheon on Nov. 17, 2016, at the Great Hall of the Clinton Presidential Center in Little Rock.
Sponsor opportunities are available, please call our office at 501-682-4230. Thank you.