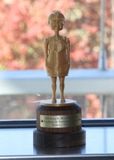 May we introduce "The Bessie"? Debuting Nov. 17 at the 2016 Bessie B. Moore Awards luncheon, it serves as the Oscar of excellence in economic and personal finance education.
The 7-inch, 750-layer statue created on 3D printers by the Arkansas Innovation Hub was presented to this year's winners:
• Rebekah Bilderback, "Which Trade Route is For Me: Sahara, Silk or Spices?" Greenbrier High School, Greenbrier School District, Faulkner County
• Jaime Cavitt, "A Scholastic Journey into Economics," Walker Elementary School, Springdale School District, Washington County
• Nakesha Cunningham, "A Hat is Here, A Hat is There, An Economic Hat is Everywhere," Baker Elementary School, Pulaski County Special School District, Pulaski County
• Tracy Floyd, Sheila Humphrey and Kristina Thrift, "Patriot Pride Since '75—Economics in Our Lives," Woods Elementary School, Fort Smith School District, Sebastian County
• Amy Gordon, "3-2-1 Economics," Barling Elementary School, Fort Smith School District, Sebastian County
• Amy Hardy, "The Dream Team Entrepreneur," East Hills Middle School, Greenwood School District, Sebastian County
• Valarie Harp, "Super Economists," Hartford Elementary School, Hackett School District, Sebastian County
• Jason Heath Hawkins, "The Economics of Entrepreneurship," Manila Middle School, Manila School District, Mississippi County
• Amy Mileham, "Take Me Out to the Ballgame," Grace Hill Elementary School, Rogers School District, Benton County
• Shelina Warren, "My Local Economic Trivia League," Scoggins-May-Hall GT Center, Pine Bluff School District, Jefferson County
View photos here.
Thank you, Cary Jenkins of the Arkansas Democrat Gazette, for attending the event and reporting about it here, and to Alex Golden of the Southwest Times Record for reporting on the six Fort Smith area winners.
We are grateful to our sponsors who made The Bessie and the Bessie B. More awards program possible. Thank you.
Next year's Bessie could be yours. Now is the time to start turning your classroom project into an award-winning entry. For more information, contact marsha@economicsarkansas.org.