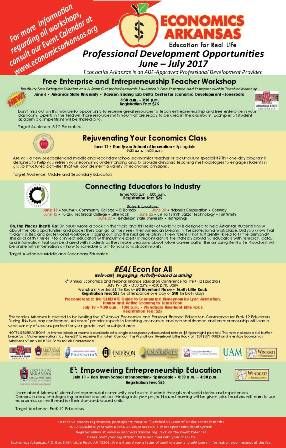 Registration is now open for our Summer 2017 PD Opportunities. We are excited to offer the following workshops:
NEW: Free Enterprise and Entrepreneurship Teacher Workshop, June 6, Jonesboro
Rejuvenating Your Economics Class, June 12, Springdale
Connecting Educators to Industry, June 13, El Dorado; June 15, Little Rock; June 20, Conway; June 22, Fort Smith; June 27, Hot Springs
REAL Econ For All, July 19-20, North Little Rock
E3: Empowering Entrepreneurship Education

For details and registration information, go to our Event Calendar and click on the appropriate date.
Feel free to print out our Summer Flyer.
We hope to see many new and familiar faces this summer and look forward to teaching you economics without the "eek."