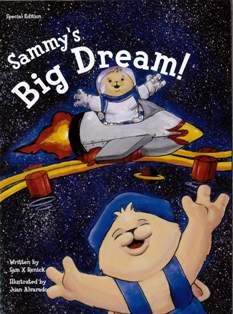 This month, every elementary school in Arkansas will receive a copy of storybook Sammy's Big Dream! It's part of Dream Big Read Arkansas – a collaboration and campaign to bring financial literacy resources and awareness to Arkansas elementary schools!
 
Did you know? 
 
A Cambridge University study published in 2013 revealed adult money habits and attitudes are set by age 7?
Nearly two-thirds of Americans cannot pass a basic financial literacy test?
According to the Federal Reserve Board, four in ten Americans do not have enough savings to cover a $400 expense?
 
The collaboration and campaign's purpose are to make it just a little bit easier to help kids establish the right money habits and attitudes while they are young.
 
Sammy's Big Dream is a gift from the collaboration for the school's library to celebrate America Saves Week (February 25 through March 2) and to inspire students to: 
 
Dream big and do big, one step at a time!
 
Schools will also receive a pamphlet that contains additional information on the campaign including how to order additional resources. 
Let's read. Let's save. Let's work together to change the statistics above and get kids on the path to financial freedom and security.
Coalition partners are Economics Arkansas, Sammy Rabbit, Garrett Planning Network and the Arkansas Bankers Association.