Tatum's Journey: How the Pandemic, Pastries, and Her Passion Created an Entrepreneur
---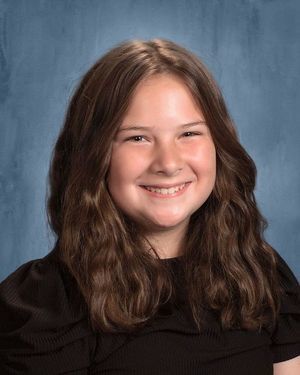 Tatum Carter
Magnolia School District
In the spring of 2020 when the world seemed to come to a halt due to the COVID-19 pandemic and the fears and unknowns that accompanied it, an eleven-year-old fifth-grader from Magnolia, Arkansas, decided to make the best of the "stay-at-home" situation in which she found herself. Schools across the state closed in March for the remainder of the year, and the concept of virtual learning was in its early stages and new and unfamiliar to many schools. Tatum Carter found herself to be bored and somewhat stir crazy once she completed her school assignments each day.
Tatum always enjoyed baking, helping her mother and grandmothers every chance she could. She was entertained by baking shows on television and YouTube baking videos. Starting a business of her own did not seem to fall in her realm of possibilities at her age; consequently, Tatum did not set out to open a baking business. During the spring of 2020, however, a post on social media by her parents inadvertently put the wheels in motion. To show how Tatum was spending her extended time at home, they posted a picture on Facebook of Tatum making a blueberry lemon pound cake for a family friend. People posted comments requesting her to bake them the same cake. From that, Tatum's Tasty Treats was birthed.
Her parents helped her create a Facebook page, which would help her promote her hobby turned business. At the beginning, her menu was limited to the blueberry lemon pound cake, but it did not take long for the menu to expand. Orders for her sweet treats began to flood the Facebook page. She began making her grandmother's chocolate chip pie and other recipes she experimented with to post and sell.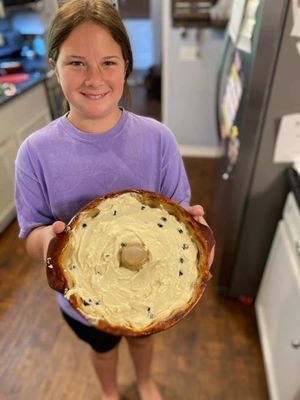 When it became apparent that Tatum had the makings of a successful baking business, her parents decided it was time for her to learn the financial aspects of a business and how it works. In the early stages, her parents gave her the money to buy ingredients for her baked goods; however, after her first big order, they informed her it was time for her to begin purchasing her ingredients. Her mother Julie, an AP Calculus and College Algebra/Trigonometry teacher at Magnolia High School helped her make lists of her ingredients and how much each ingredient cost. By doing this, Tatum learned how much each item cost her to make. From there, her charge for each dessert was set so she was sure to make money and not lose money for the price of the ingredients. Her labor was also a consideration as she added new baked goods to her menu that were more time-consuming to make. Tatum also learned there was more to a baking business than just the sweet treat itself. She soon realized she had to purchase supplies, such as boxes, stickers, plastic wrap and other packaging supplies. She quickly became educated in buying in bulk. She also learned these expenses had to be considered in how much to charge for each dessert to cover the price of supplies.
Although Tatum's parents were instrumental in teaching her the basics of the financial aspects of starting and running a business, she had already been introduced to financial literacy as a fourth-grader at Central Elementary School. Partnering with Economics Arkansas, each spring in the Magnolia School District, all students in kindergarten through fifth grades participate in a book club that promotes financial literacy. That year the book was The Toothpaste Millionaire by Jean Merrill. Throughout the three-week event, students were introduced to financial and economic vocabulary and resources provided by Economics Arkansas.  The culminating event for Tatum's campus that spring was their version of the television show Shark Tank. Each homeroom's project was to create a food truck concept and present it to the "sharks," representatives from a local bank that was also partnered with the school district in the financial literacy event. Students collaborated in choosing their food truck, devising the financial plan, and doing the artwork and reports required for the presentation. Tatum's class chose to do a donut food truck named "Sweet-O's." Tatum has stated, that although she already had an interest in baking, the food truck project even enhanced her interest.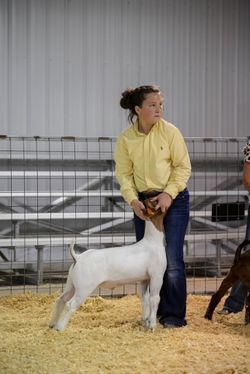 Although Tatum's hobby is baking and she thoroughly enjoys doing it, her passion is animals and showing her goats, lambs, and pigs in livestock shows. She began showing sheep at the age of six and goats and when she was eight years old. In talking about her animals, Tatum says, "There is a saying that goes, 'Cheap livestock isn't good and good livestock isn't cheap.' I don't know who thought of that, but there is some truth to it." She is quick to say that participating and competing in FFA and 4-H and showing livestock can be an expensive passion to have. As a result of the success of Tatum's Tasty Treats, Tatum now funds the purchase of her animals, the supplies and items they need, and the entry fees to her livestock shows. At the same time her baking business took off, she needed to purchase a treadmill for her lambs and goats. The cost was $1,800.  With the money Tatum earned, she was able to buy the treadmill rather than asking her parents for the money. The money she earns is not used for anything but her baking business and animals. Most recently, she had to replace the air conditioner in her animal trailer, a very costly purchase. Her baking business funded the new air conditioner.
Upon seeing the early success of the baking business, Tatum's father Micah, a pastor in Magnolia, determined it was time for her to learn about banking—opening and managing her own checking account. He assists her in monitoring the account and writing the checks to pay for what she needs for the business and her animals. Tatum humorously states, "I learned early on that you don't sign a check with a pencil or a marker." She also learned about farm loans through the local Farm Credit financial service cooperative. She had to borrow money one time to use for her livestock, and she is proud to say she has already paid it back due to the money from her baking business and past livestock show earnings.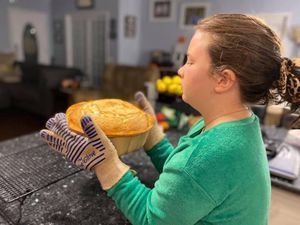 Being out of school in the spring and summer of 2020 allowed Tatum to bake on a regular basis; however, when school opened in August, it became more difficult to keep up with the volume of orders for her tasty treats. In balancing her school work and preparing her animals for fall livestock shows, Tatum found less time for her baking business. She began to hire her brother Walker to help her, but she jokes that her parents usually worked for free.  
In the spring of 2021, Tatum, a sixth-grader at Magnolia Middle School, was featured in the yearly school district's Magnolia READS financial literacy project. To correspond with the book students in K-5 were reading, Billy Sure: Kid Entrepreneur by Luke Sharpe, Tatum recorded a video with PanthersTV and shared her journey as a young entrepreneur. This video, posted on the district's website and social media platforms, caught the attention of many in Magnolia and the surrounding communities.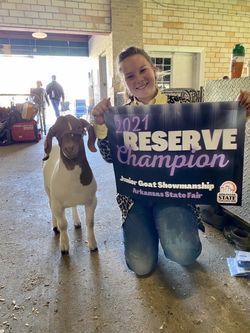 Currently, as a thirteen-year-old seventh grader, Tatum continues to bake her sweet treats and has added to the original menu from 2020. The money she earns continues to fund her animals and the supplies she needs for livestock showing. The foundation Tatum obtained in financial literacy was established by resources and materials provided by Economics Arkansas and taught by her classroom teacher, a book about a young inventor and entrepreneur, and planning a food truck business with her fellow classmates. Her parents continue to help with the financial planning and management of her baking business and livestock showing. As a middle school student, she has also begun enrolling in her foundational agricultural classes where introductions to agricultural business are being taught. In future grades, she will be able to enroll in economics, business, and agricultural courses that can better educate her in making the baking and livestock businesses more successful.
As far as becoming the owner of Tatum's Tasty Treats, Tatum states, "I really hadn't planned to open and run my own business, but I guess I am an example that it doesn't matter how old one is, anyone can be an entrepreneur. God has blessed me through this adventure, and I have learned many life lessons through running a small business and showing livestock."