Grab & Go Economics--Concept Guides
---

Recommended for teachers K-5.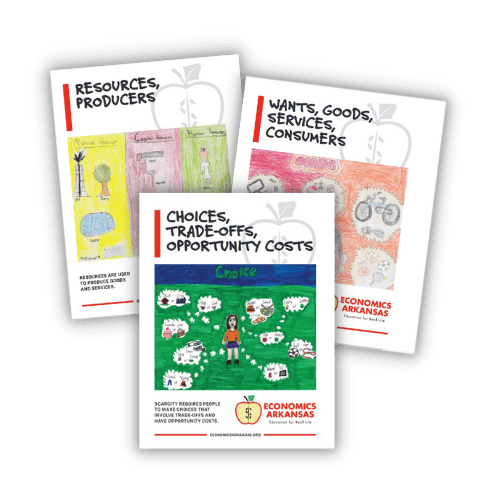 Authored by Dr. Curt Anderson, Geanie Channell and Deborah Shearer under the leadership of Economics Arkansas, Grab & Go--Concept Guides tell the story of economics in a set of 12 thoughtfully sequenced concept statements.
Each guide contains
concept background with examples
introductory activity
3 reproducible activity pages with teaching notes
key points for students
extension ideas
Topics and Online Connections
Guide 1: WANTS, GOODS, SERVICES, CONSUMERS
Online Connections: Forecasting Economics 
Guide 2: RESOURCES, PRODUCERS
Online Connections: How Everyday Things are Made, I, Pencil: The Movie
Guide 3: SCARCITY, ALLOCATION METHODS
Online Connections: Oh Scarcity Sing-a-long, Scarcity Video and Quiz, Scarcity with the Lewis and Clark Expedition 
Guide 4: CHOICES, TRADE-OFFS, OPPORTUNITY COSTS
Online Connections: Once Upon a Decision E-Book, Opportunity Cost and Video, The Perfect Pet
Guide 5: SPECIALIZATION, PRODUCTIVITY, INTERDEPENDENCE
Online Connections: Lean On Me: We Depend On Each Other, Specialists Light Up Our Lives, The Assembly Line: Now and Then 
Guide 6: BARTER, EXCHANGE
Online Connections: A Pet for Beans from "Jack and the Beanstalk," Lewis and Clark Barter with the Native Americans, The Perfect Breakfast, Trade to the Tailor 
Guide 7: MONEY, TRADE
Online Connections: Barter – Trade – Comical but So True, The Story of Money, What Makes Something Useful as Money                    
Guide 8: BUYERS, SELLERS, MARKET, PRICE
Online Connections: Florida Fresh Produce, To Market To Market
Guide 9: INCOME, HUMAN CAPITAL
Online Connections: Current Compensation Survey, US Bureau of Labor Statistics, Morris Goes to School, We Can Earn Money (or) Working Hard for a Living
Guide 10: EXPENDITURES, SAVING
Online Connections: A Chair for My Mother, A Penny Saved is a Penny at 4.7% Earned, Clickety Clack, Let's Keep Track, This Little Piggy Went to Market
Guide 11: ENTREPRENEUR, COST OF PRODUCTION, REVENUE, PROFIT
Online Connections: Introducing Entrepreneurs, Young Entrepreneurs in Action: Nesha Sanghavie
Guide 12: TAXES, GOVERNMENT-PROVIDED GOODS AND SERVICES
Online Connections: Goods and Services: Some are Private, Some are Not, Tax Man Max, Tic Toc Taxes! 
Download the Guides
---
---