Arkansas Personal Finance Challenge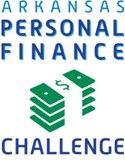 Economics Arkansas and the Federal Reserve Bank of St. Louis will host the 2021 Arkansas Personal Finance Challenge virtually, an opportunity for high school students to demonstrate their knowledge of personal finance by competing against other students in a one-day challenge.
When: Wednesday, April 14, 2021,  9.00 am - 12:00 pm
Where: Virtually
Arkansas Teachers may register 1 team of 3-4 students by March 30 to be eligible to participate. No advance qualifications or tests are required.
Teams will receive a fictitious case study on March 31 and have from March 31 - April 7 to collaborate and prepare a 6-minute PowerPoint presentation making suggestions based on the case study information. Presentations must be in PowerPoint format and be submitted by April 8 at 5:00 p.m. to acee@economicsarkansas.org. No changes may be made to the PowerPoint once it has been submitted. Judges will evaluate the PowerPoint presentations based on content. The top 3 teams will be notified by Friday, April 9, and will present live on April 14. 
Prize money, certificates, and medallions will be awarded. The first-place winning team will split $500 and advance to the National Personal Finance Challenge. 
View complete rules and a sample case study here.
To register, click here.
---
Sponsors

The 2021 Arkansas Personal Finance Challenge is generously sponsored by title sponsor First Security Bank. Thank you.
Additional sponsorship opportunities are available. Please contact kathleen@economicsarkansas.org for more information.
---