Arkansas Personal Finance Challenge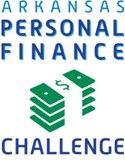 ---
Economics Arkansas and the Federal Reserve Bank of St. Louis will host the 2021 Arkansas Personal Finance Challenge virtually, an opportunity for high school students to demonstrate their knowledge of personal finance by competing against other students in a one-day challenge.
When: Tuesday, April 13, 2021,  9.00 am - 12:00 pm
Where: Virtually
No advance qualifications or tests are required. On the day of the competition, student teams of three or four will be given 90 minutes to prepare a financial plan based on a detailed fictitious family scenario. Teams will work collaboratively in a Zoom room with a monitor. Each team will prepare and present a six-minute PowerPoint presentation in preliminary rounds to a panel of judges who will score knowledge, collaboration and presentation skills. The top 3 finalists from preliminary rounds will advance to a final round to determine the overall winner.
Each teacher may register one team for this competition.
First place team members will each receive $100 cash. Second place team members will each receive $75 cash, and third place team members will each receive $50 cash. Each of the top 5 teams at the national level will win trophies, banners and cash prizes ranging from $125 to $2,500. 
View complete rules and a sample case study here.
To register, click here.
---
Sponsors

The 2021 Arkansas Personal Finance Challenge is generously sponsored by title sponsor First Security Bank. Thank you.
Additional sponsorship opportunities are available.
For details, click here. 
---