Arkansas Personal Finance Challenge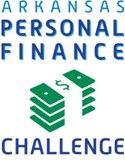 UPDATE, April 1, 2020:
This challenge has been cancelled due to the Coronavirus pandemic.  
---
Economics Arkansas will host the 2020 Arkansas Personal Finance Challenge, an opportunity for high school students to demonstrate their knowledge of personal finance by competing against other students in a one-day challenge.
When: Wednesday, April 8, 2020, 9.30 am to approximately 1.30 pm
Where: Federal Reserve Bank of St. Louis, Little Rock Branch, 111 Center St # 1000, Little Rock, AR 72201
No advance qualifications or tests are required. On the day of the competition, student teams of three or four will be given 90 minutes to prepare a financial plan based on a a detailed fictitious family scenario. Each team will present their six-minute PowerPoint presentation in three rounds to a panel of judges who will score knowledge, team work and presentation skills.
Lunch will be provided at no cost to participants. Each teacher may register up to 2 teams.
First place team members will each receive $100 cash. Second place team members will each receive $75 cash, and third place team members will each receive $50 cash. The top team will also receive an all expense paid trip to compete in the 2020 National Personal Finance Challenge on May 4 at the University of Nebraska--Lincoln College of Business in Lincoln, NE. Each of the top 5 teams at the national level will win trophies, banners and cash prizes ranging from $125 to $2,500. 
View complete rules and a sample case study here.
To register, click here.
---
Sponsors

The 2020 Arkansas Personal Finance Challenge is generously sponsored by title sponsor First Security Bank. Thank you.
Additional sponsorship opportunities are available.
For details, click here. 
---