2nd Excellence in Free Enterprise Award Honors Legacy of Charles H. Murphy Jr.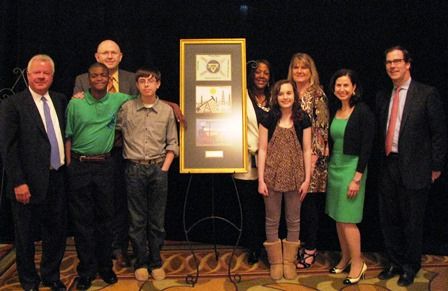 "Outstanding!" – "First class!" – "Inspiring!" Those are just a few of the many compliments shared about the Excellence in Free Enterprise Award luncheon held April 10, 2014, at the Little Rock Marriott. We are delighted to share this feedback with the many generous sponsors and our 500 guests who made this event such a success!
We honored the legacy of Charles H. Murphy Jr., who built his family business in El Dorado into a worldwide oil and timber conglomerate. Please view the video below, which was shown during the luncheon in tribute to Mr. Murphy's entrepreneurial and philanthropic endeavors. We are grateful to the Murphy Corporation for making the original video available to us and for allowing us and Gabe Gentry of Mindful Media Productions to produce a condensed version for the luncheon.
"The purpose of today is to celebrate a champion of free enterprise," said Randy Zook, Economics Arkansas board member and head of the Arkansas State Chamber of Commerce, who served as co-emcee of the luncheon. A video highlighted Mr. Murphy's accomplishments as a visionary business leader and his dedication to education, community and country.
Madison Murphy accepted the award on behalf of his family and the Murphy entities. Three middle school students from El Dorado created artistic drawings of economic concepts representing each of the three Murphy business entities: Murphy Oil Corporation, Deltic Timber Corporation and Murphy USA. Madison thanked the students, Blair Roberson, Dakota Fetterly and Briana Hogbin, and told them his father would have been very pleased with the award. He also expressed his appreciation to Economics Arkansas and guests for honoring his father's legacy.
Arthur Brooks, Ph.D., of Bethesda, Md., president of the American Enterprise Institute, delivered the keynote address, an entertaining, fascinating insight of how earned success and free enterprise can lead to happiness!
Ray Hobbs, Economics Arkansas board chair 2013-14 and president and CEO of Daisy Outdoor Products, served as co-emcee, and other luncheon speakers included Nan Morrison, president and CEO of the Council for Economic Education; and Sue Owens, Economics Arkansas executive director.
View photos here.
The awards luncheon was made possible, in part, by the generous support of these major sponsors. Thank you.