LIFE Awards presented to 3 Economics Arkansas Legacy Leaders April 12, 2016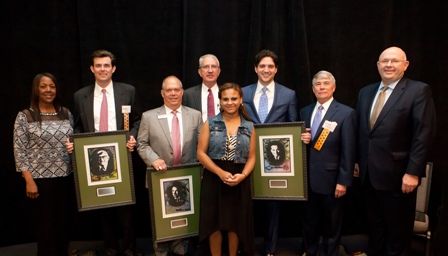 During the 2016 Leadership in Free Enterprise (LIFE) Awards luncheon in Little Rock on April 12, 2016, Economics Arkansas presented awards to the families of the late Governor Winthrop Rockefeller, Kenneth Pat Wilson and Mike Wilson. The three men were posthumously honored for serving as champions of economic education and for advancing the economic development of Arkansas through the expansion of free enterprise.   
Each honoree played a significant role in the early years of the organization. Thanks to their vision and leadership, many of today's students in grades K-12 benefit from mastering the "economic way of thinking," which provides them with the tools and insights of how to thrive in a free-market economy. 
A group of four excited, yet very convincing first-graders from the Fort Smith School District and their teacher Sheila Humphrey, spoke knowledgeably and in rhyme (!) about such economic terms as "specialist," "resource extender," "interdependence," "public goods and services" and more. Their presentation quickly enlightened anybody who might believe that economics was only for high school students as it served as living testimony to the lasting impact of the three honorees. 
We invite you to view photos and videos from our event.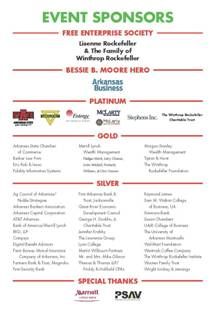 As the first Republican governor in almost 100 years, Winthrop Rockefeller reformed Arkansas state government, improved the state's educational system, advanced race relations, expanded medical care, promoted the arts and championed industrial development. He helped lay the foundation for what would immediately become one of the strongest state councils on economic education in the nation—a reputation that continues today. Governor Rockefeller served as a presenter during many professional development teacher trainings, hosted teachers on Petit Jean Mountain and he kicked off an economic education series on public television with Dr. Bessie Moore, which was a first nationally.
Michael Wilson was the long-time chairman and CEO of Lee Wilson and Company, one of the largest agricultural conglomerates in east Arkansas. In 1971, he joined the Economics Arkansas board where he served 29 years. (He was recognized as a Lifetime Board Member posthumously in 2012.) He also served on the board of the National Council for Economic Education for many years. His generous gift to Arkansas State University to endow the Center for Economic Education still benefits both K-12 teachers and college students today. His son, Perry, currently serves on the EA board.
Kenneth Pat Wilson established the First Jacksonville Bank & Trust, now known as First Arkansas Bank & Trust. He organized the Jacksonville Chamber of Commerce and spearheaded local efforts for his home town to become the site of the Little Rock Air Force Base. In 1963, he joined the Economics Arkansas board when the organization was only in its second year and assumed the role of board chairman in 1964. One of the most important legacies he left Economics Arkansas is a partnership with the Arkansas Bankers Association, which has meant over $2 million dollars in contributions to the organization in 54 years. As a tribute to his lasting impact as a visionary business leader, his family established the Kenneth Pat Wilson Center for Economic Education at UALR in 2006. 
Thank you to all the guests for attending and celebrating with us. 
We are grateful for the generous sponsors and contributors who made this event possible along with our LIFE Committee:
•    Randy Zook, CEO of Arkansas State Chamber of Commerce, EA Board Chair, for his role serving as LIFE Chair, Emcee, and for his tribute to Mike Wilson;
•    Ray Dillon, CEO of Deltic Timber Corporation, EA board member, for his tribute to Gov. Rockefeller
•    Bob Hamilton, Principal of Digital Benefit Advisor, EA Board Vice-Chair, for his tribute to Kenneth Pat Wilson; 
•    LIFE Committee – Bob Hamilton, Rob Bell, Lou Graham, Ray Dillon, Sue Owens 
•    Tipton & Hurst for creating exquisite flower arrangements
•    The many volunteers who helped with set-up and registration
•    Donors and sponsors
•    Marriott Little Rock
•    PSAV Presentation Services. 
THANK YOU.