Bessie B. Moore Awards Program
The Bessie B. Moore Awards Program recognizes Arkansas teachers for going "above and beyond" what is required by developing outstanding economic and personal finance projects they integrate into the classroom during the school year. The recipients receive statewide recognition from board members and donors during an annual luncheon hosted each fall, a monetary award, and--premiering in 2016--"The Bessie."
---
We are deeply grateful to our generous sponsors who make this program available. 2016-17 Sponsors
Sponsorships are available here.
---
2017 Winners
Ann Taylor and Jo Anne Williams, Bentonville School District, "Choosing our Economic Future"
Kathryn Robinson, Fort Smith School District, "Economics by Accident: Teaching Economics in the Classroom Every Day"
Juanita Harris, Texarkana School District, "Everday Economics: Earn Money. Spend Money. Learn Economics"
Allyson Goodin, Jonesboro School District, "Teacher Cadets Tackle Economics"
Lindsay Griffin and Melissa West, Greenbrier School District, "VIP Financial Literacy"
Kimberly Been and Kimberly Daws, Fort Smith School District, "We're not 'Fowling' Things up in Economics"
Jennifer Howald and Samantha Rodebush , Fort Smith School District, "Woods Wondrous Wacky World"
They will be honored during a gala luncheon on Nov. 15, 2017, at the Great Hall of the Clinton Library in Little Rock.
For sponsorship opportunities, please click here.
---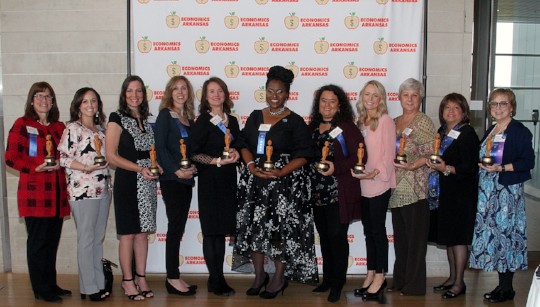 ---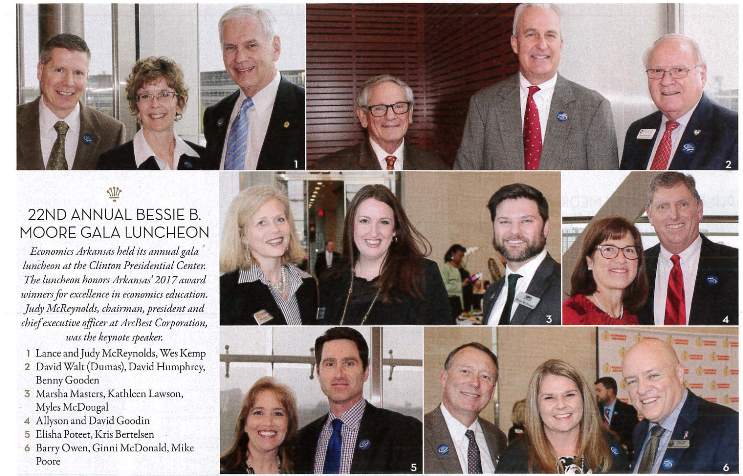 ---