EA wins the 2013 Arkansas Business of the Year Award/Nonprofit Category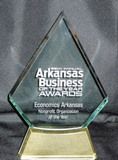 Economics Arkansas won the 2013 Arkansas Business of the Year Award/Non-Profit Category during the 25th annual Arkansas Business of the Year Awards at the Statehouse Convention Center in Little Rock on Feb. 26, 2013.
The Business of the Year Awards are sponsored each year by Arkansas Business Publishing Group. Arkansas Business readers nominate businesses, executives and nonprofits for the awards, and an independent panel of judges determines the winners.
"Increasing the economic and financial literacy of our population will not only impact students as they each seek their own American Dream, but it will also impact the state's economic development opportunities. Thank you for recognizing our life-changing and empowering mission of economic and financial literacy," said Economics Arkansas Executive Director Sue Owens as she accepted the award, along with a check for $2,500 presented by AT&T.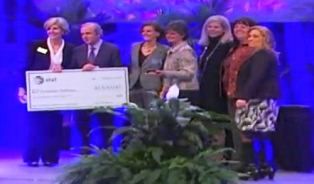 It is our honor to accept this award on behalf of all educators, supporters, board members, friends, volunteers and Arkansas students who have contributed to our efforts over the last 50 years. Thank you.
A webcast of the presentation can be found here.
A press release is available here.