When Your Student Becomes Your Co-Worker
---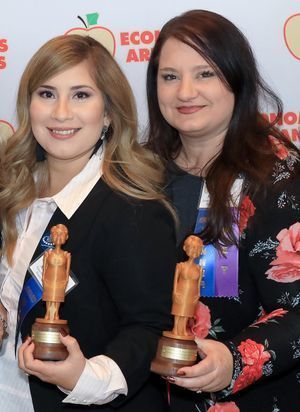 Anna Badders and Amy Mileham
Amy Mileham and Anna Badders
Rogers School District
"I attended my first Economics Arkansas workshop 24 years ago, the summer after my first year of teaching," shared Amy Mileham. I didn't know anything about the organization, but I was eager to learn strategies to improve my teaching. At this workshop (mini-society) I received so many hands-on teaching ideas, economics knowledge, and resources, plus we were treated like valuable professionals. I was sold. I continued to attend as many Economics Arkansas workshops as possible - one-day events, week-long workshops, and dinner sessions. They all provided engaging strategies that made me excited to return to my classroom.
One of the things I most appreciate about Economics Arkansas is that you leave the workshops prepared to teach. The lessons, activities, trade books, and content guides equip teachers to put the ideas into practice immediately. Teaching economics isn't "one more thing to do," it is an important part of becoming a good human. Economics Arkansas has also provided grants for projects in my classroom. These projects have allowed my students to put their book knowledge into practice. Learning something is great, but doing it is lasting.
Over the years, my students have opened their own bookstore, restaurants, craft markets, food festivals, and more. They have learned valuable lessons about improving their own human capital and decision-making. All of this learning is thanks to Economics Arkansas and the love they created inside a young teacher all those years ago. I now have former students who are grown, including my partner teacher. Many of those students come back to visit and always mention the economics projects we did as some of their best learning memories. I am forever grateful to the Economics Arkansas organization for their support of teachers and students in our state.
One of my former students, Anna Badders, is now my co-worker and shares her story below:
When I was 9 years old, I had Mrs. Mileham for my teacher. I remember her classroom because she constantly embedded activities that were more than pencil and paper. Nothing is better than learning without realizing how much you're truly learning. I remember the creating, interacting and the experiences of loving to learn. It was part of the reason that I knew I wanted to be an educator. If I can feel that kind of passion at 9 years old, I want to instill that passion into other kids.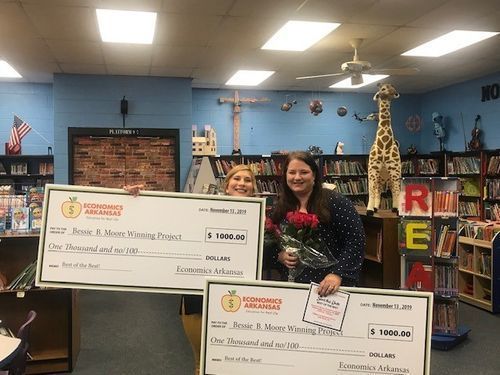 And now having Mrs. Mileham (Amy) as a co-worker and teaching these life lessons together…it has brought me full circle. She introduced me to Economics Arkansas, and I am so grateful for the training and resources I have received. I sincerely appreciate having these lessons because this is a topic I didn't necessarily find myself an expert on. The lessons are incredibly interactive and engaging for the kids, they enjoy when it is time for economics and that tells me they are excited to learn -- now isn't that what this is all about?
Seeing my kids fall in love with this curriculum brings me joy, not only because they are learning and having fun while doing so, but because these are lessons that they truly will need in their lives! AND bonus points: these lessons are interdisciplinary - literacy, math & economics skills all in one.
My students especially took pride in their work when they marketed, produced, and sold lemonade during a school-wide economics event: a food truck festival. My class sold lemonade and Amy's class sold nachos and other handmade goods. These 4th-grade students took all their learning and ran a "business."
This changed how I thought about work and life by reminding me that application solidifies learning. The biggest takeaway for me with economic education is how my students experience concepts in action.