About Us
---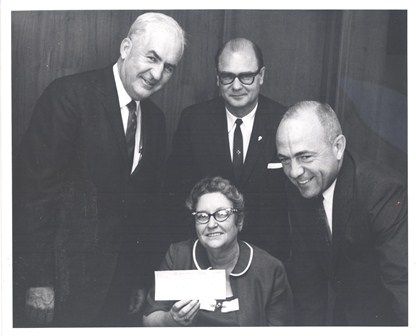 Economics Arkansas is a private, non-profit, non-partisan, educational organization founded in 1962 by Arkansas Commissioner of Education Dr. Arch Ford to promote economic literacy in Arkansas. He appointed Dr. Bessie B. Moore as its first executive director. In 2018, she was posthumously inducted into the Arkansas Women's Hall of Fame. 
Economics Arkansas trains PreK-12 teachers how to incorporate principles of economics and personal finance into the classroom curriculum. Economic education is real life because all young people will grow up and become part of the marketplace.
Economics Arkansas provides resources and training to PreK-12 teachers in both public and independent schools in Arkansas. Our belief is that through training teachers, the multiplier effect is achieved. Each school year, the training a teacher receives through Economics Arkansas can impact new children.
Economics Arkansas is associated with a network of affiliated councils, and we collaborate with six Arkansas university-based Centers for Economic Education. In addition, Economics Arkansas extends its resources through the Polly M. Jackson Master Economics Teachers. These partnerships help the organization meet the needs of teachers by providing economic education training, materials, and curriculum for Arkansas schools. 
Getting Started
Bessie was a fundraiser extraordinaire. Right after she took charge at Economics Arkansas in early 1962, (then the Arkansas Council for Economic Education), she needed $10,000 to send 52 teachers to economics training workshops. The story of how she raised those funds is told with glee by those who knew her: She invited 23 Arkansas businessmen and bankers to the Marion Hotel in Little Rock, locked the door and explained her problem. The necessary sum was pledged within the hour. That locked door has led to the opening of millions of other doors for Arkansas teachers and students!
Celebrating 60 Years
In 2022, Economics Arkansas celebrated 60 years of promoting economic literacy. To commemorate the milestone, we honored some of our longest supporters and produced a special publication and tribute video.
Mission & Vision
---
Our mission is to equip PreK-12 schools with standards-based resources and professional development to teach economics, personal finance and the free enterprise system using practical, innovative and inspiring methods.
Our vision is for Arkansas students to master an understanding of economics and personal finance and apply that knowledge for success in the free enterprise system.
---