$10 Challenge
---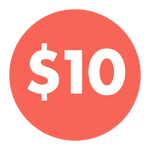 Grades 9-12
November 14, 2022 - April 14, 2023
Do you have students who have an entrepreneurial mindset? Consider introducing them to the $10 Challenge. Stephens Inc. has created a series of videos that spotlight the story of entrepreneurs who were ordinary individuals that did extraordinary things in the world of business. Economics Arkansas has created 12 lessons to accompany the videos and can be found on the iNSPIRE Lesson Plans page. 
Students take $10 of their own money and launch a new business venture. Students work independently to submit a descriptive story of their business venture(s), including a timeline of activities and a personal response to the question: "What did you learn through this experience?" These stories must be submitted as an 18 - 27 panel graphic novel created through Pixton, using the comic book feature. A free access code will be provided to all participants. As an alternative, students may submit a PowerPoint to showcase their $10 Challenge experience.
Competing students must complete a submission form tracking their finances throughout the competition. This form can be downloaded from the resource list below. 
Both winning teachers and students receive cash prizes (up to $300 for students and $200 for teachers), certificates, and medallions. 
Deadline to submit entries is April 21, 2023. Entries may be submitted to acee@economicsarkansas.org. 
| $10 Challenge | Prize Amount |
| --- | --- |
| 1st Place* | $300 |
| 2nd Place* | $200 |
| 3rd Place* | $100 |
| 1st Place Teacher | $200 |
| 2nd Place Teacher | $100 |
| 3rd Place Teacher | $50 |
*DISCLAIMER: A minimum score of 16 is required for award consideration. Find more information in the submission form and grading rubric included above. 
To learn more about the $10 Challenge, click on the video below.
Sponsors
---

The $10 Challenge is generously sponsored by Stephens Inc. Thank you.
Additional sponsorship opportunities are available. Please contact kathleen@economicsarkansas.org for more information.
Questions?
---
Contact Marsha Masters at marsha@economicsarkansas.org.