Bessie B. Moore Awards Program
The Bessie B. Moore Awards Program recognizes Arkansas teachers for going "above and beyond" what is required by developing outstanding economic and personal finance projects they integrate into the classroom during the school year. The recipients receive statewide recognition from board members and donors during an annual luncheon hosted each fall, a monetary award, and--premiering in 2016--"The Bessie."
---
We are deeply grateful to our generous sponsors who make this program available. 2017-18 Sponsors. 
We welcome additional sponsorships. Pledge forms are available here.
---
2018 Winners
We announced the 2018 winners with a Prize Patrol during the last week of August. Watch our live videos on Facebook as we surprised the winners at their schools. 
Philip Carlock, "Stephens Elementary Financial Lit. Program," Little Rock Public School District
Melanie Adams, Amy Braswell, Jillane Johnson, Elizabeth McMichael and Rachel Racop, It Takes a Village to Build a New Country," Little Rock Public School District
Larisha Nelson, "S.A.W. (Students at Work)," Pulaski County Special School District
Jennifer Malugen, "Economics and the Three Little. . . ," Springdale School District
Michele Jackson, "Make it Personal! Inspiring Teens to Embrace Personal Finance Responsibility," Siloam Springs School District
Tracy Floyd, Rhaechel Hendricks and Kristina Thrift, "Economics Comes Naturally in the Natural State," Fort Smith School District 
Jessica Culver, "Yoganomics: Healthy, Wealthy and Wise Econ!" Ozark School District
Susie Thompson, "Satisfaction Guaranteed! (Or is it?) Globalization, Trade and World Economics, Little Rock Christian Academy
---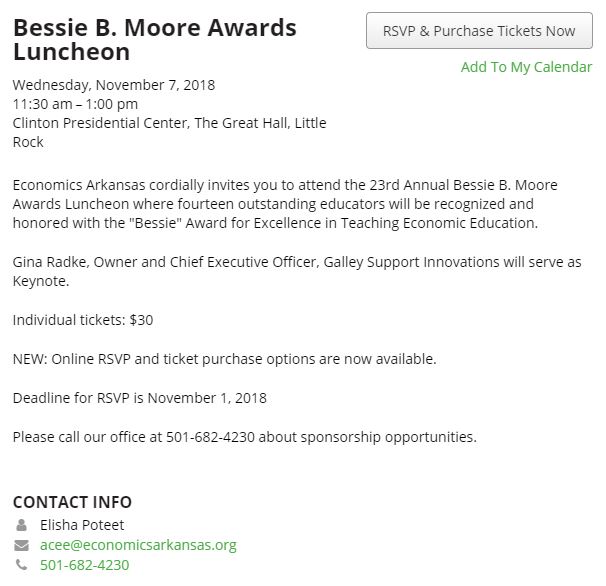 ---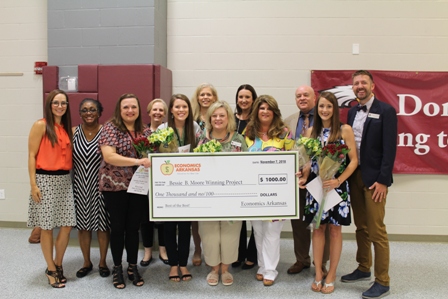 ---