Arkansas Reads One Book: The Lemonade War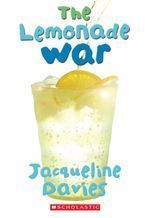 Economics Arkansas is a lead partner of "Arkansas Reads One Book," a family financial literacy project.
Participants are reading The Lemonade War by Jacqueline Davies.
Thank you for visiting. Please select one of the icons below to find resources best suited for your needs.
---
---
The Little Rock School District has produced a video series of "celebrity readings" of all Lemonade War chapters. These videos are free to anybody to listen to, share and enjoy!
---
Support for the Arkansas Reads One Book initiative has been generously provided by
ARVEST Bank
Bank of the Ozarks
First Security Bank
Rotary Club of Little Rock (Club 99)
THANK YOU!
The Magnolia school district launched their Lemonade War participation in February 2017. Little Rock, Pea Ridge and Texarkana followed suit in April, and El Dorado will launch theirs in the fall semester of the 2017-18 school year.
We hope many others will join in soon.