2014 Excellence in Free Enterprise Award Honors Mike Duke
---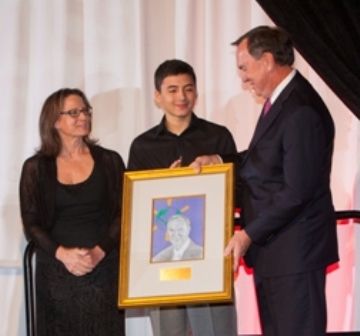 Entrepreneurs and free enterprise deserve to be applauded and respected as their achievements improve the lives of millions around the globe—that was the message of the Excellence in Free Enterprise Awards luncheon hosted by Economics Arkansas on Oct. 27, 2014, in Rogers. We honored the legacy of Mike Duke, recently retired as CEO and president of Walmart, whose leadership was instrumental in expanding free enterprise across the globe through his company's growth.  
Please enjoy these videos featuring hightlights and photos from our event, including a video tribute to Mike Duke produced by Walmart Stores Inc.
The Honorable Mike Huckabee delivered an impassioned message to underscore the importance of free enterprise to our economy while reinforcing the significance of economic education in the classroom, which is precisely the mission of Economics Arkansas.
We heard feedback from guests who experienced a "lightbulb" moment about the power of economics as the decision-making science, which will help increase the interest in and support for economic and personal finance education in schools.
---
A wonderful group of supporters and volunteers made this event a resounding success. We would like to extend special thanks to
Our more than 700 guests;
Dan Bartlett, Executive Vice President, Corporate Affairs, Walmart Stores, for serving as Master of Ceremony;
4th-grade teacher Amanda Gunther and her three students from Jones Elementary School, Springdale Public School District, for speaking with wit and eloquence about the positive impact of real-life economic projects in the classroom;
The Northwest Arkansas Campaign Committee, for spreading the word about our event and recruiting more than 70 company sponsors and individual contributors;
Rogers student Herson Rivera and Bentonville student Valerie Lugo for creating the Excellence in Free Enterprise awards, which were presented to Mike Duke and Walmart, and
The very generous contributors for providing financial and in-kind support.
Thank you.