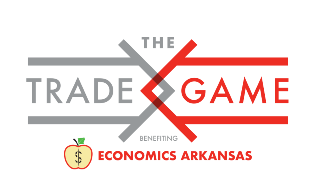 PRESENTED BY
ArcBest
Hosts: Robert and Mary Young | Lawson and Debbie Hembree
Location: Arkansas College of Health Education at Chaffee Crossing
College of Health Science Building
7006 Chad Colley Blvd.
Fort Smith, AR 72916
Join us for the inaugural Northwest Arkansas Trade Game to catch a glimpse of how Economics Arkansas is infusing economic education and financial literacy into schools across the state. Upon arrival, you'll be given a bag of goodies, which you may trade for items you find more desirable. Enjoy this lively, hands-on activity demonstrating and measuring how voluntary trade results in higher satisfaction and value creation. Your participation helps us provide economic education training and resources to Arkansas teachers and their students for years to come.
Seating is limited to 50 guests. RSVP Deadline: May 15, 2020.
Reserve your spot today by registering online or by submitting this completed form.
Click here to view sponsorship benefits.
If you are unable to attend but would like to make a tax-deductible donation in any amount of your choosing, please click here, select"Purpose of Gift: Event/Program Sponsor" and specify "Additional Comments: Fort Smith Trade Game."