Arkansas Reads One Book: CEO Playground Millionaire
---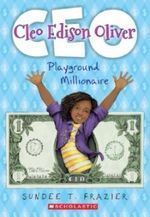 Economics Arkansas is a lead partner of "Arkansas Reads One Book," a family financial literacy project.
In season 2, participants are reading CEO Cleo Edison Oliver, Playground Millionaire by Sundee T. Frazier. Fifth-grader Cleopatra Frazier is full of business ideas that range from the sale of homegrown avocados to a tooth-extracting franchise. Along the way, she and the readers learn important lessons about saving and budgeting, entrepreneurship, business management and business ethics.
Thank you for visiting. Please select one of the icons below to find resources best suited for your needs.
---
---
Support for the Arkansas Reads One Book initiative has been generously provided by
ARVEST Bank
Bank of the Ozarks
The Clinton Foundation
Delta Dental of Arkansas Foundation
First Security Bank
Rotary Club of Little Rock (Club 99)
THANK YOU!
---
The season 1 selection was The Lemonade War by Jacqueline Davies. Find more information and resources here.
---
In the Fall 2018 semester, Little Rock Public Schools are reading Zoey and Sassafras: Dragons and Marshmallows and Frank Einstein and the Electrofinger to study the connection between science and economics. Download lesson plans, resources and activities here. 
---